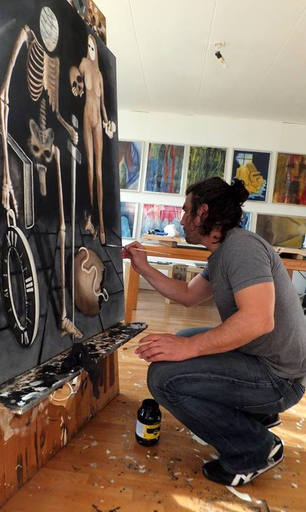 Niaz is a self-taught artist. I would actually define him as a natural talent, although he started to "experiment" with art in 2009, his work seems to be the result of a long lasting artistic career.
He never had any art education; Niaz actually owns a degree in Economics and a Master degree in Political Science and International Relations.
His academic career, his profound interest in politics, history and philosophy as well as his personal life experience, have been fundamental to deeply understand, evaluate, analyze and criticize the socio-cultural human organization, its processes and its organizational background.
Focusing on hidden socio-economic driving factors, Niaz prefers to express his critics by visual arts instead of by critical text or other academic methods. Images, colors, figures, shapes are "The Communication" method. His art works are universal, regardless of cultural formation, languages, citizenship and social class.
Eclectic, this would be another adjective I would use to define Niaz. He masters a variety of techniques and materials with unique easiness. He is able to merge self-taught academic techniques with a contemporary vision and methodology.
Similar themes are interpreted differently and adapted to the used media; painting, drawing, sculpture or photography. The results are always very effective and communicative.
Loneliness, mental addiction, injustice and subjugation are some of the main themes that, with undiscussed and univocal artistic capability, Niaz is capable of touching and condemning.
Paintings in particular are mostly focused on current human being and on external factors that condition the contemporary man's freedom.
Niaz's works are an open and merciless critic against all institutional structures that force the humanity to live in pre-set mental and physical cages. AF- Misfitsproject
niazart2009@gmail.com
facebook.com/niaz.art.amsterdam
Amsterdam - The Netherlands